HANDCRAFTED IN ITALY WITH COMFORT IN MIND
MAISON BEDARD is a luxury footwear brand which allies European craftsmanship to contemporary design, for high-end superior quality, and most of all, comfortable shoes that women can live their real life in.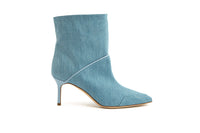 NEW ON-DEMAND PRODUCTION
At MAISON BĒDARD, we believe in sustainable fashion. Consequently, we are adopting a new on-demand production model which will allow us to produce the quantities that are pre-sold, and only a few extra.
PRE-ORDER NOW
SUSTAINABILITY IS IMPORTANT TO US
At MAISON BEDARD, we put much effort into finding high quality leather which would otherwise go to waste.
We produce high-end footwear in Italy in small batches with great care, and use ethical production processes. If cared for properly, your MAISON BEDARD shoes will last a lifetime.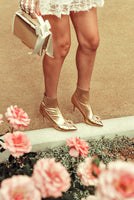 MAISON BĒDARD BRIDAL SHOES
Each pair of MAISON BĒDARD bridal shoes features something old, something new, something borrowed and something blue! The sole of the left shoe contains a magnetic ring so that before her wedding, to bring luck into her marriage, the bride removes the ring and ships it back to MAISON BĒDARD using the small envelope hidden in the shoe box. This ring is then used on another pair of shoes destined for another MAISON BĒDARD bride! You can easily recognize a MAISON BĒDARD bridal shoe by the light pastel blue tip of the heel!
SHOP BRIDAL
BOOK YOUR PRIVATE SHOPPING APPOINTMENT
Are you in the Ottawa area? Book a private & personalized shoe shopping experience at our showroom located in Cumberland, ON.
Raving Reviews
I was already way past my days of wearing uncomfortable high heels just for looks. And then I found Maison Bedard! Jessica's shoes look amazing, yet I can wear her heels all day long and actually go through all that I have to do on any given day while wearing them... her designs are unique too, and the craftsmanship is unmatched. I also love supporting a female-founded brand! Most luxury shoes are made by men who've never had to actually walk in them. Bye bye Louboutin, hello Maison Bedard!

Eva Hartling
I wear a pair of MAISON BEDARD shoes or boots almost daily at work. Not only are they spectacular, they are truly VERY comfortable. Anyone who knows me knows that I am on my feet all day. So comfort is an absolute must. And that is definitely one of MB's strengths: STYLE and COMFORT.

Dr. Caroline Tosoni